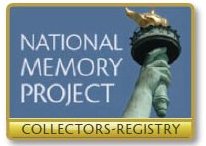 "An item without a story is just stuff,
a story without an item is just words,
an item with a story is history."
NMP Collectors-Registry provides for centralized registration and control of significant things. This virtual "chain of custody" provides a safeguard against fraud, establishes accountability, improves property authentication and records history.
MISSION
A nation, tribe, team, group, company, race, city, family or person may be remembered through their artifacts. Collectors-Registry will:
(1) Help owners catalogue, manage and safely electronically share their items and stories and help to establish a historical pedigree for items and to memorialize each item with its story.
(2) Help our Country to be more a nation of treasures and less a nation of disposable items. As a consequence, we may consume less, seek product sustainability and promote and recognize exceptional craftsmanship.
(3) Help to reduce personal property related fraud and loss, and justify higher valuations for collectible items in part by recording the story associated with an item.
VALUATION DISCUSSION
The value of an item only becomes relevant when it changes hands. The determination of that value is something determined by the buyer and the seller. Collectors-Registry records the key attributes of an item such as its tie to memorable events or that it is of a particularly high quality or of a limited number. The interpretation of these attributes into monetary value must be determined by the buyer or seller of each item.
Collectors-Registry only records that an item is an item of significance, but not necessarily of monetary significance, although it may be.
Collectors-Registry does not focus on the financial significance…it is more about the significant memories…which are more valuable, where value is measured by a recollection of an event of personal, family, national or other significance.
ITEM AUTHENTICATION DISCUSSION
The history of an item is an assertion of the registering party and not that of Collectors-Registry. Intentionally inaccurate statements made and then communicated on the Postcard Title via US Mail may constitute mail fraud. Authentication is not a perfect science but by establishing and maintaining a chain of ownership for an item, authentication claims should gain additional credibility. As the imputed value of an item increases, additional due diligence and protections are encouraged such as use of a professional appraisal and insurance against loss.
If an owner counterfeits an item and then sells the counterfeit using the ownership record for the original, the seller then diminishes the future value of the original which should directly reduce the chances of counterfeiting by the true owner.